The Freshman/Sophomore Baseball game scheduled for today has been cancelled. ⚾⚾ Softball will play at home today starting at 4:30 PM. 🥎🥎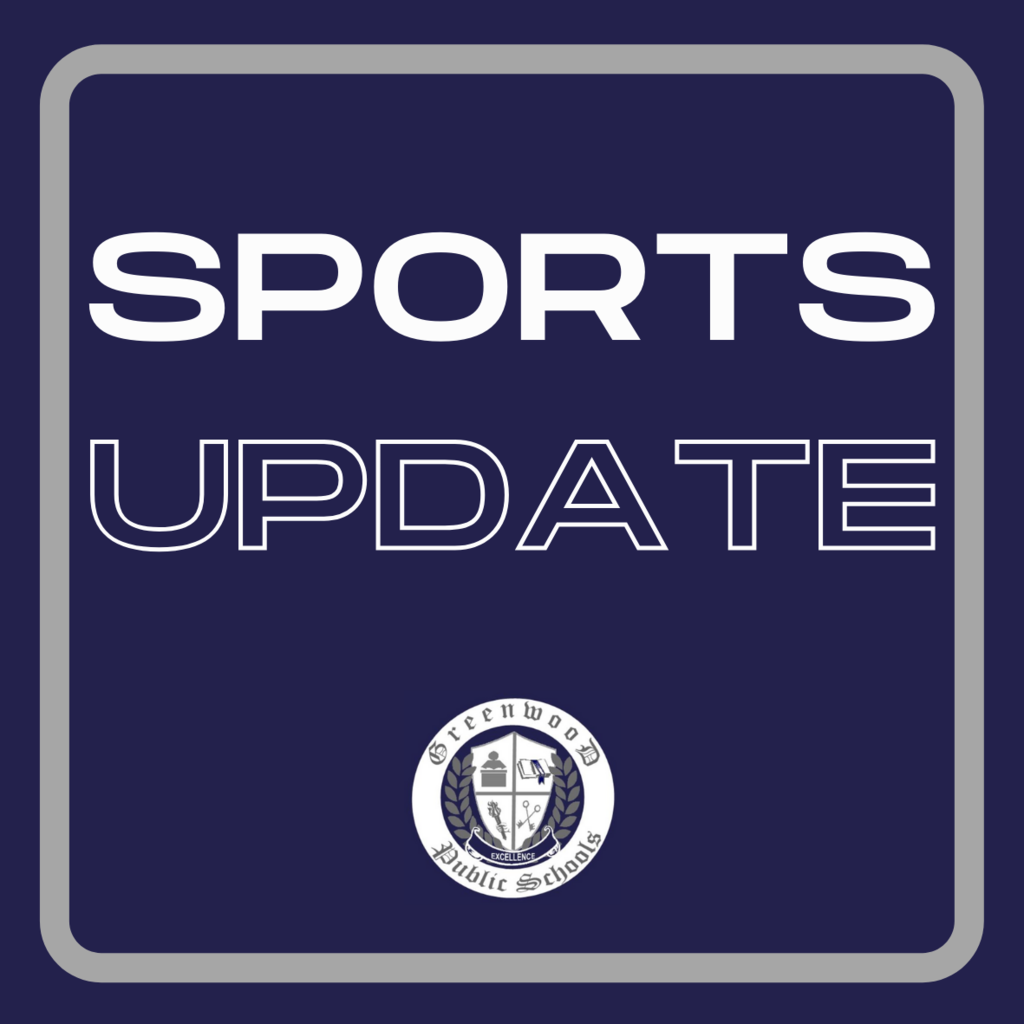 Did You Know ❔❔❔❔ #GSDexcellence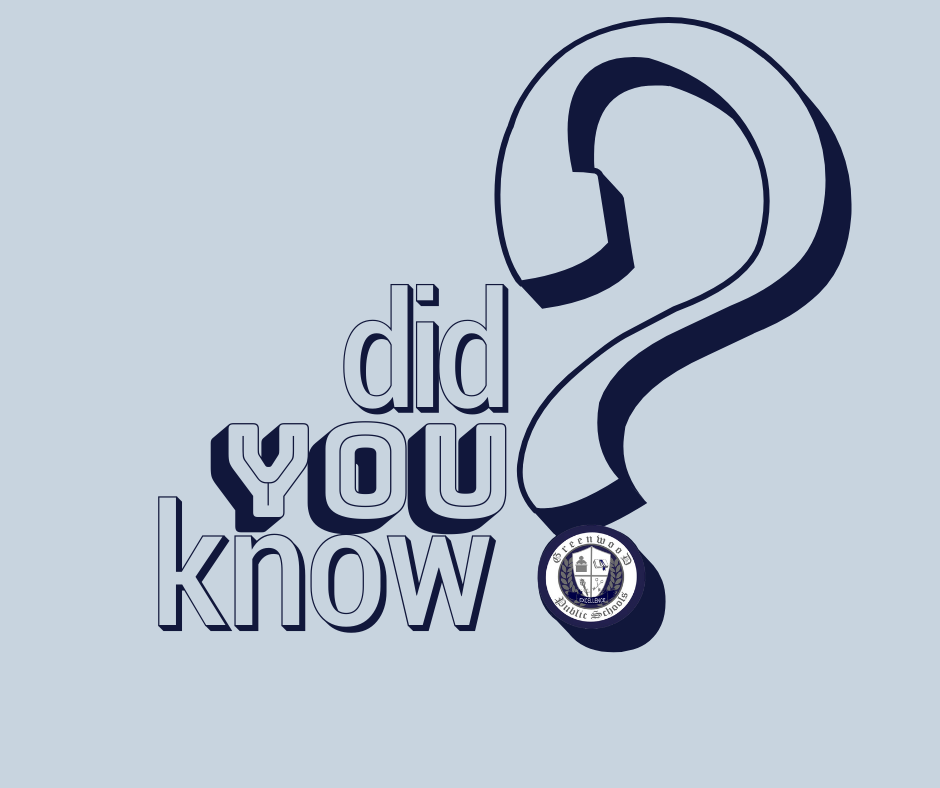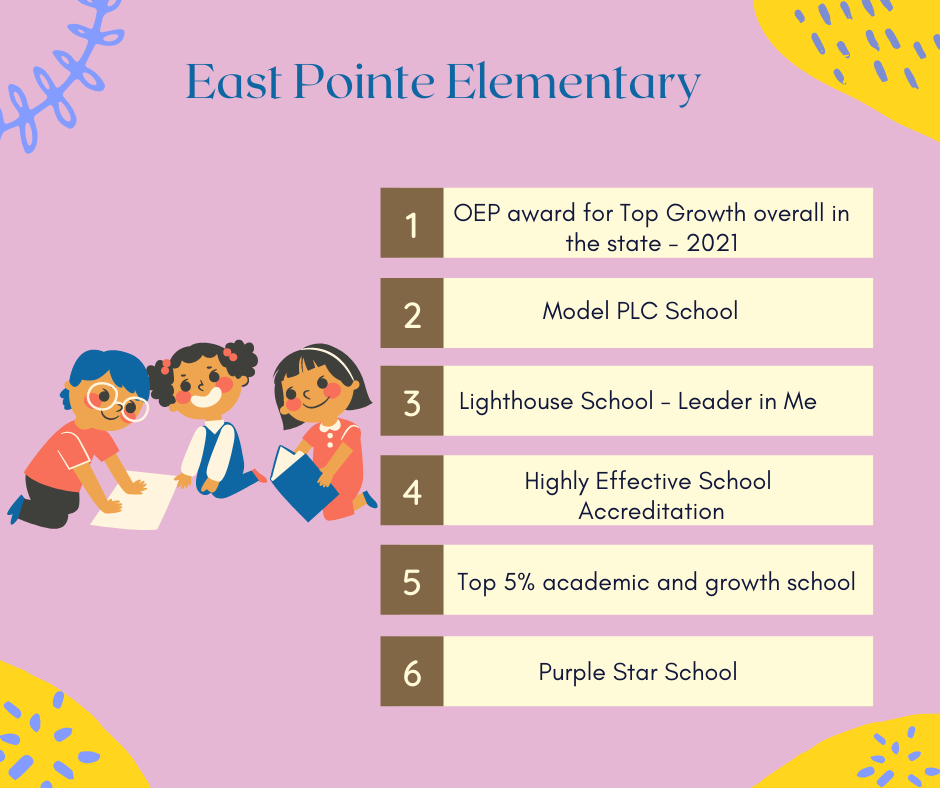 Purple Up Greenwood! #purpleupGreenwood #monthofthemilitarychild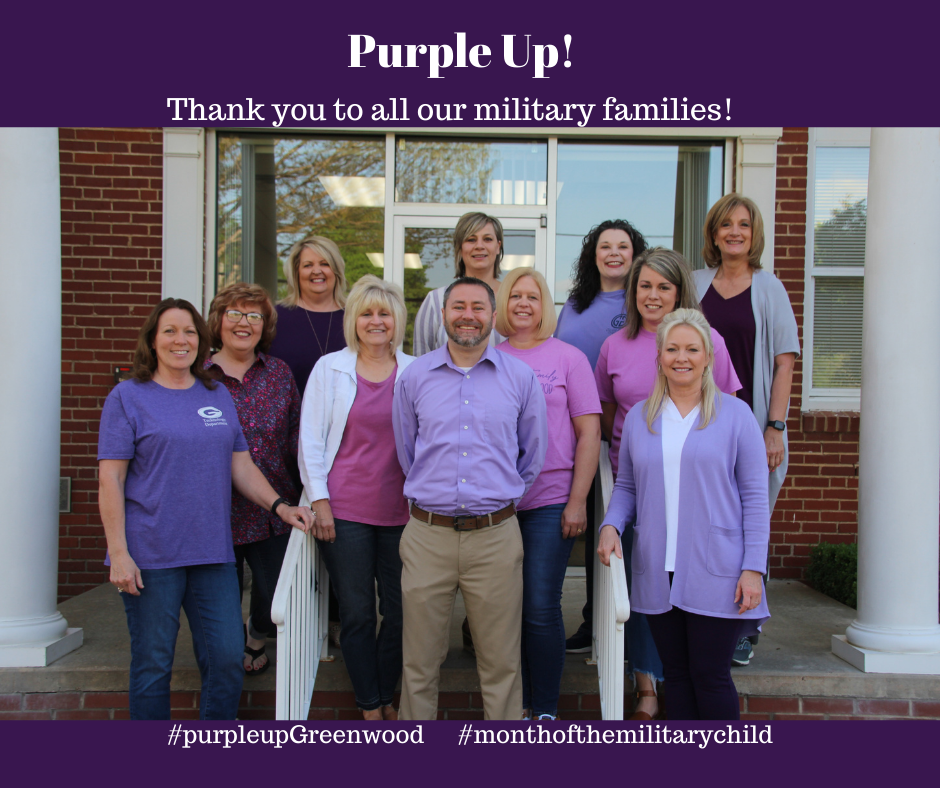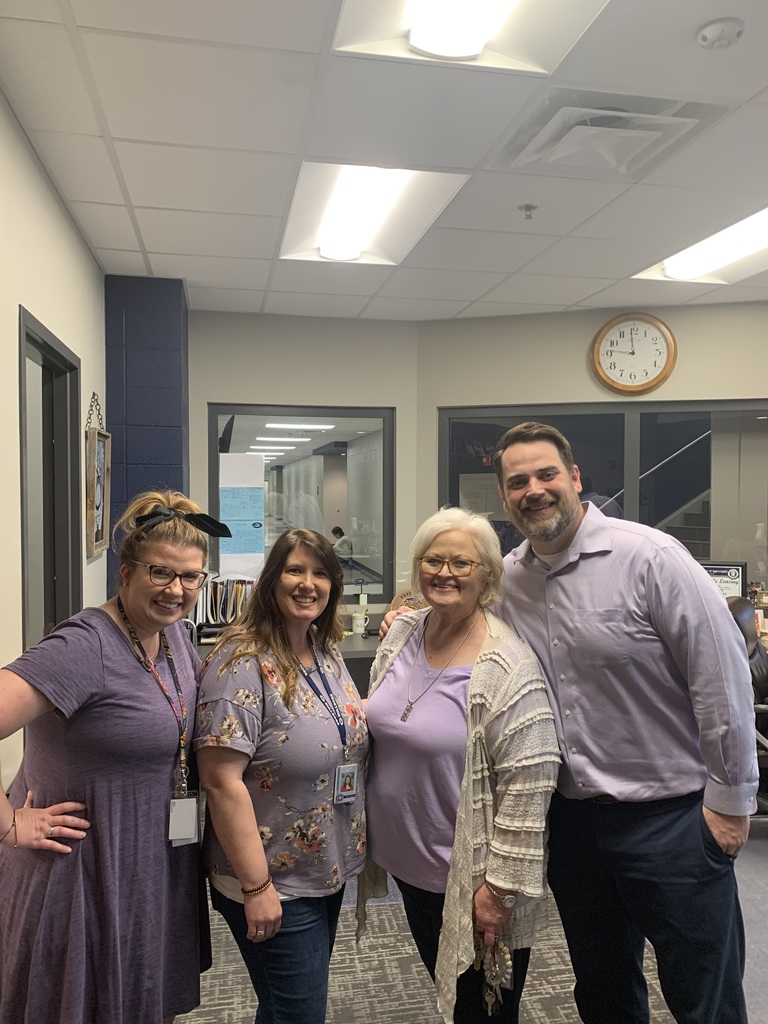 STILL TIME for EARLY ENROLLMENT for KINDERGARTEN students for the 2022-23 school year. Start the online process at greenwoodk12.com - new student registration. Appointments are still available for Tuesday evening.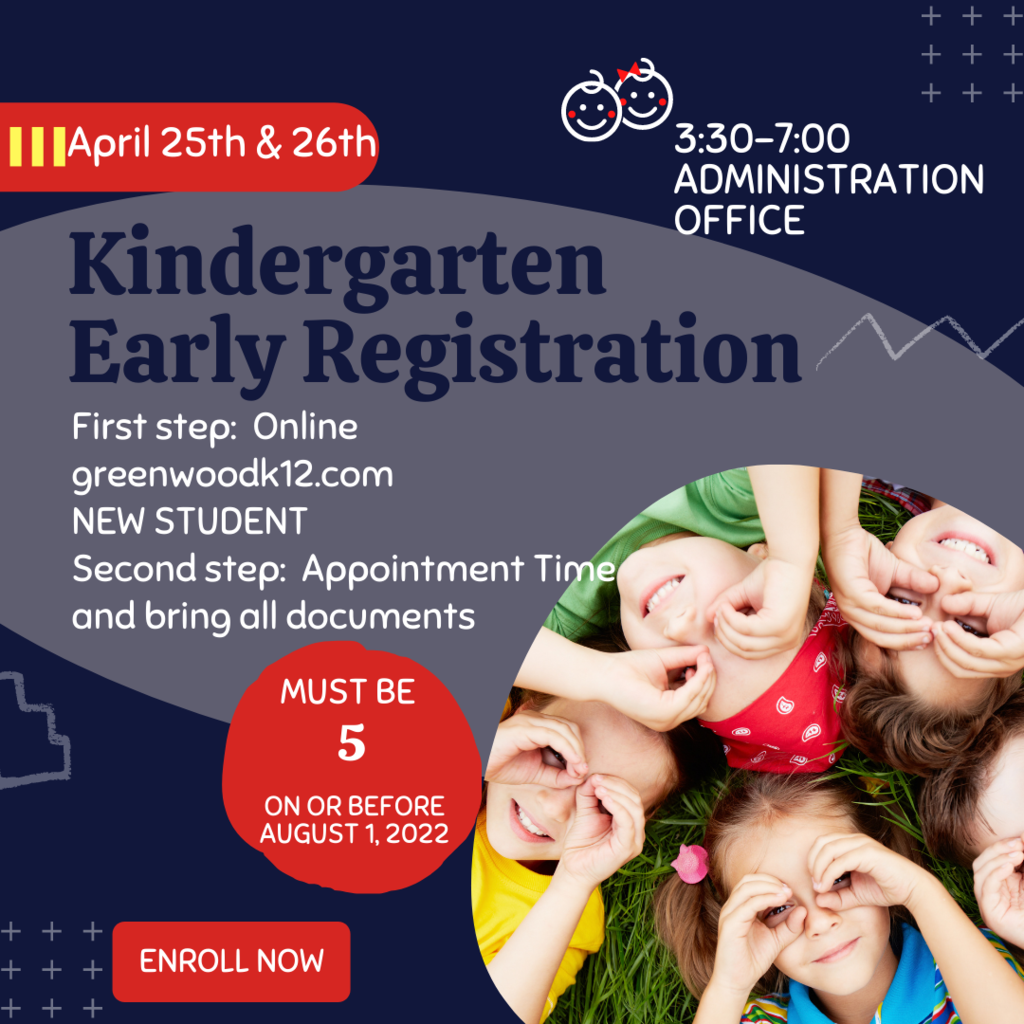 Purple Up day is Friday! Remember to wear purple to support our military families! #PurpleUPGreenwood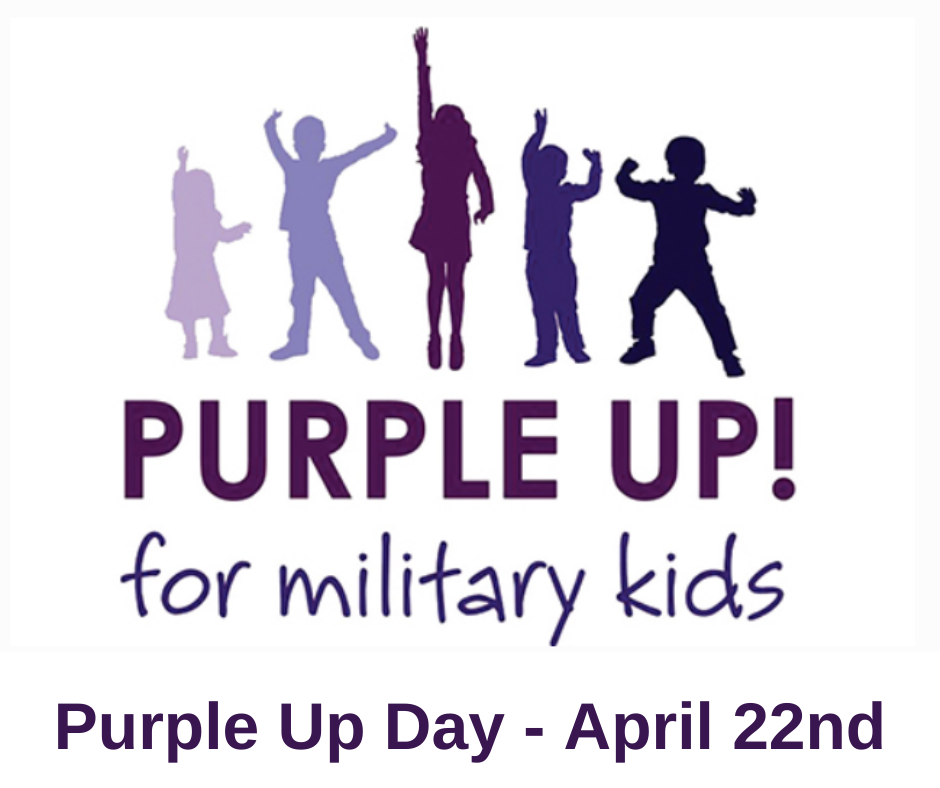 With so many events scheduled from now until the end of the school year, please utilize our website to locate dates and times of all upcoming events. Go to greenwoodk12.com, Scroll down to the events section on the home page Click on "more events" tab Use the "search bar" in the top left corner to type in your keyword , such as prom, graduation, etc.

2022-23 SCHOOL CALENDAR (revised) The revisions were approved by the School Board on April 14th as proposed by the Personnel Policy Committee.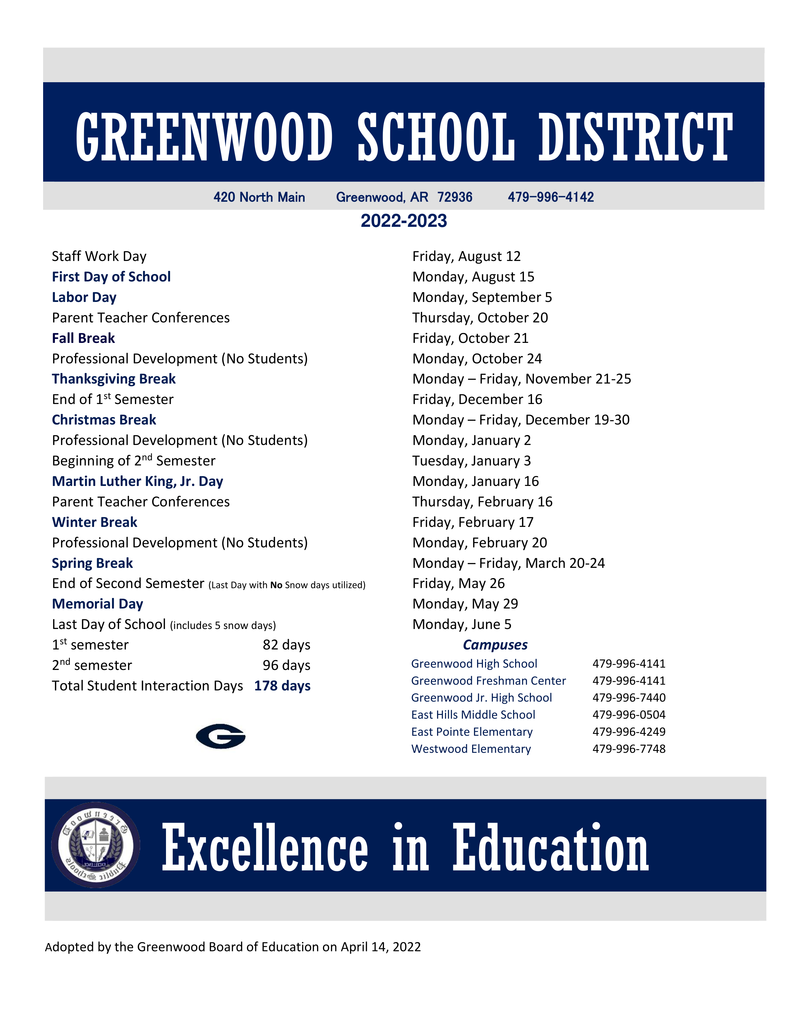 Congratulations to Mady Cartwright for achieving the 1000 Point Club this season!! 📷: Peggy Barger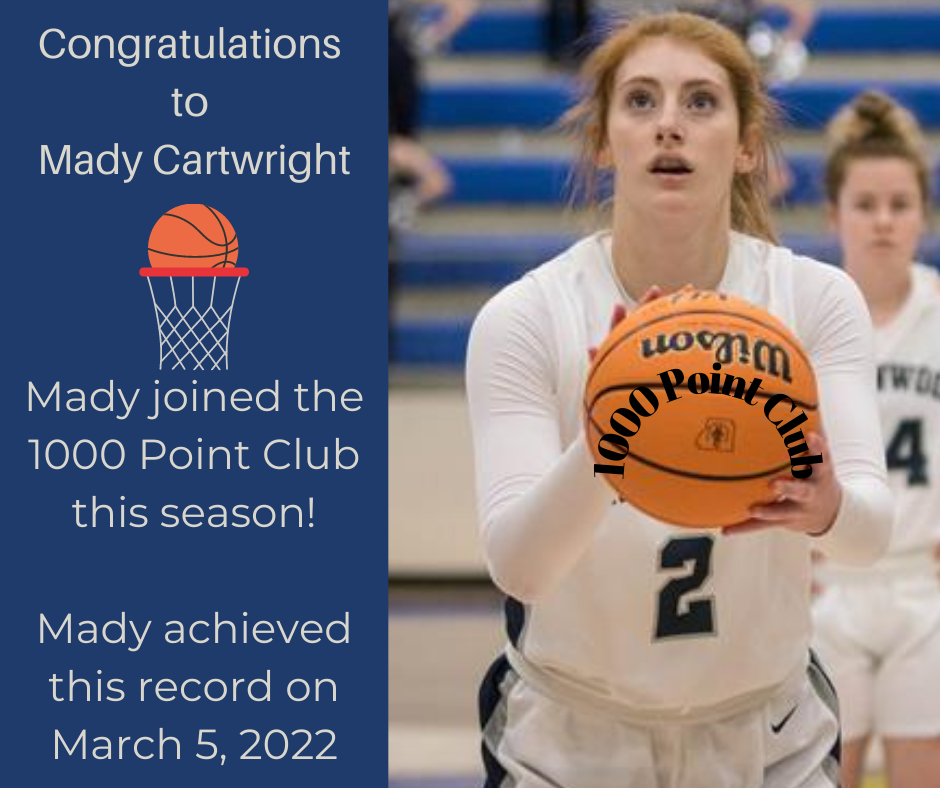 Kindergarten Registration is next week! Appointments are filling up fast! Start the enrollment process online at greenwoodk12.com - New Student Registration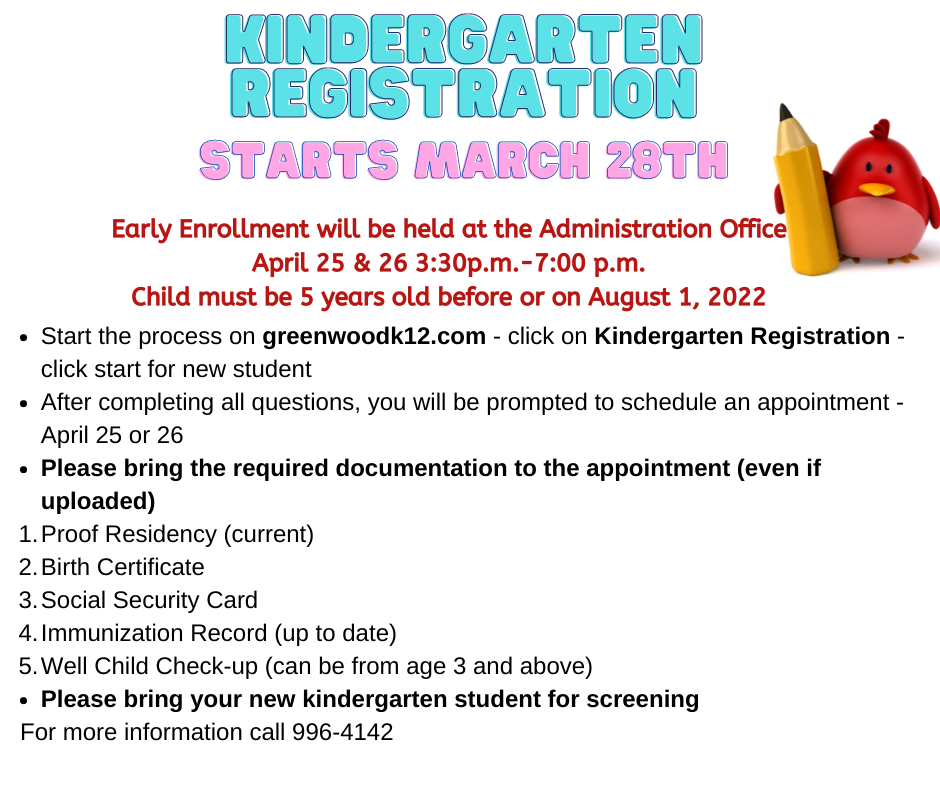 April is the month of the Military Child. Wear purple on Friday, April 22nd to celebrate our military children and families! #PurpleUPGreenwood #militarykidsmonth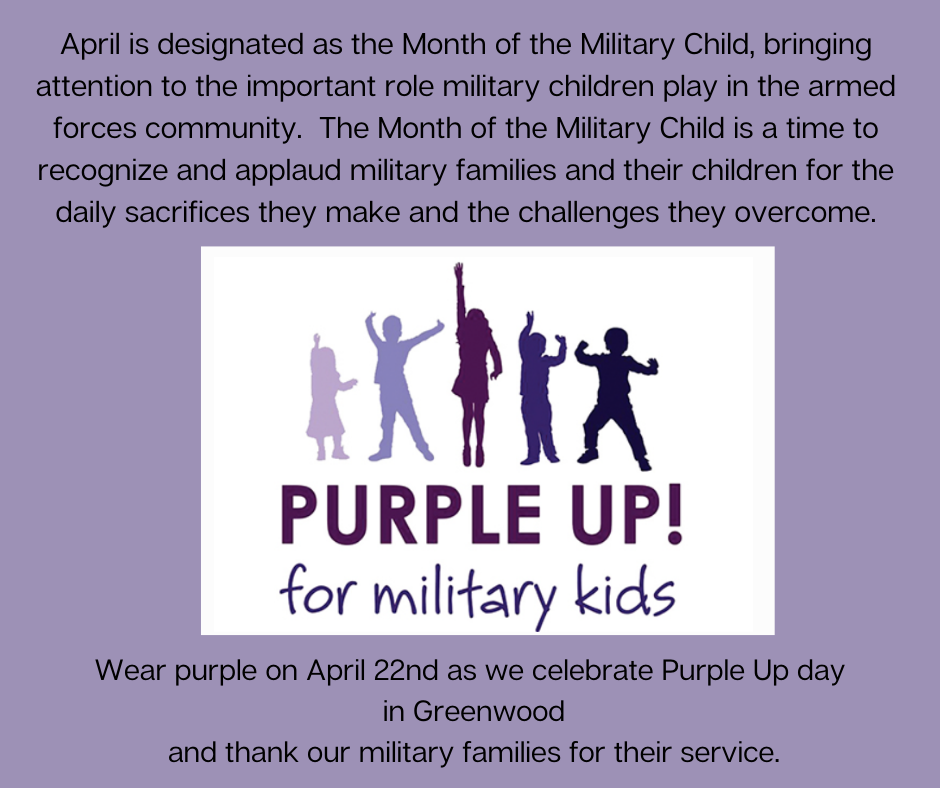 Congratulations to Anna Trusty and Mady Cartwright! 🏀🏀🏀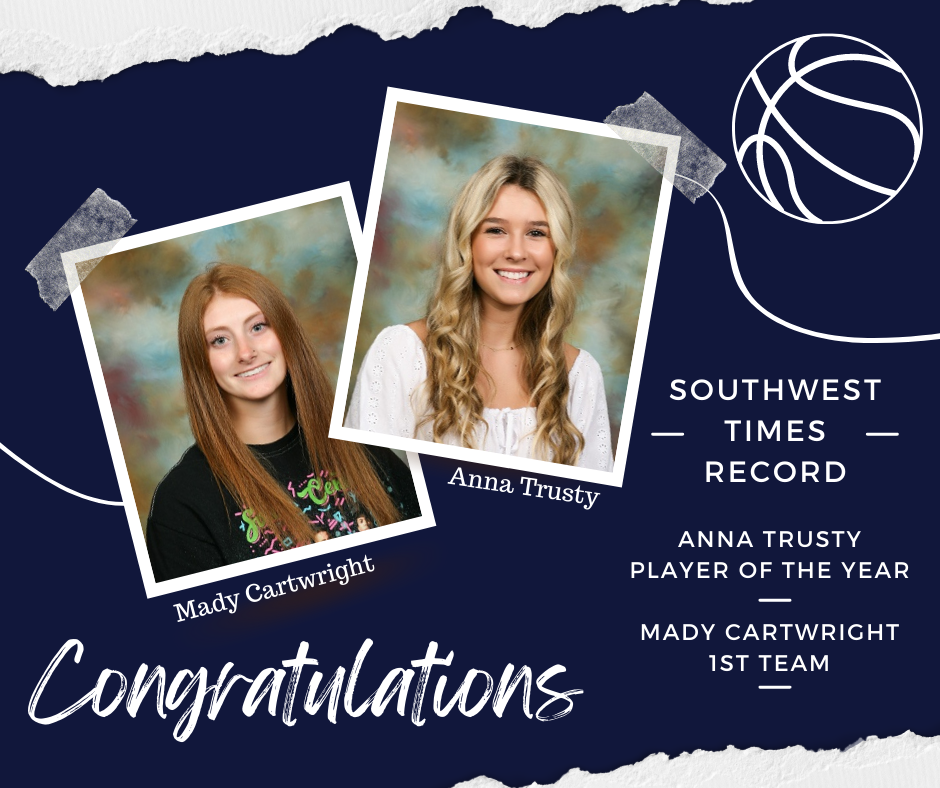 Did You Know❔❔❔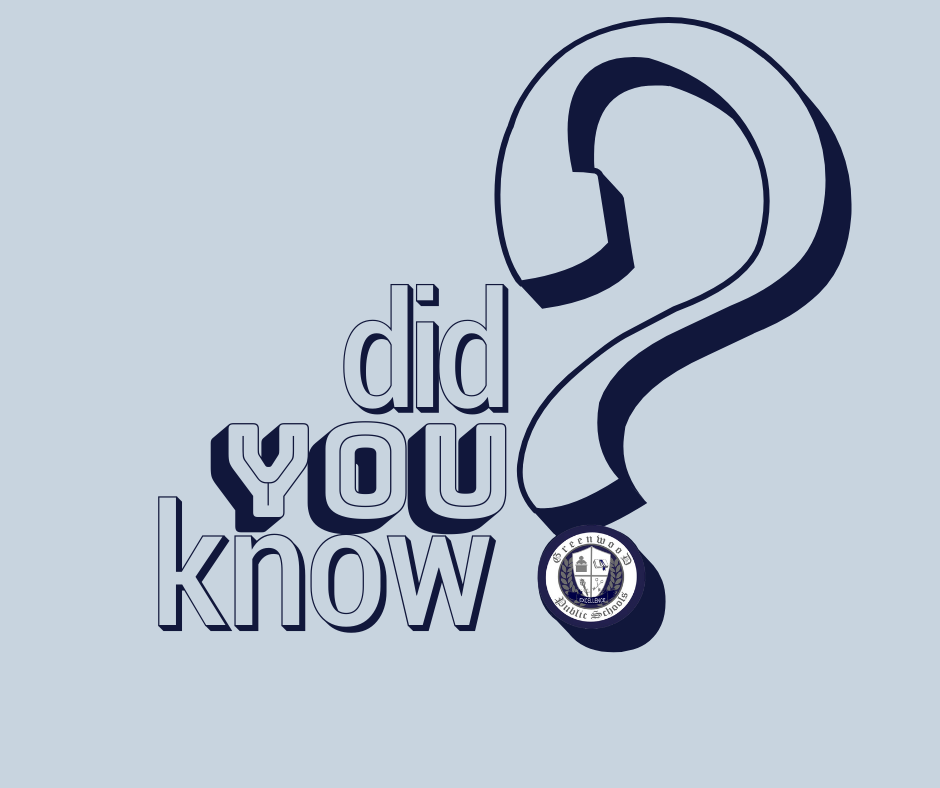 Greenwood School District wishes you a happy Easter.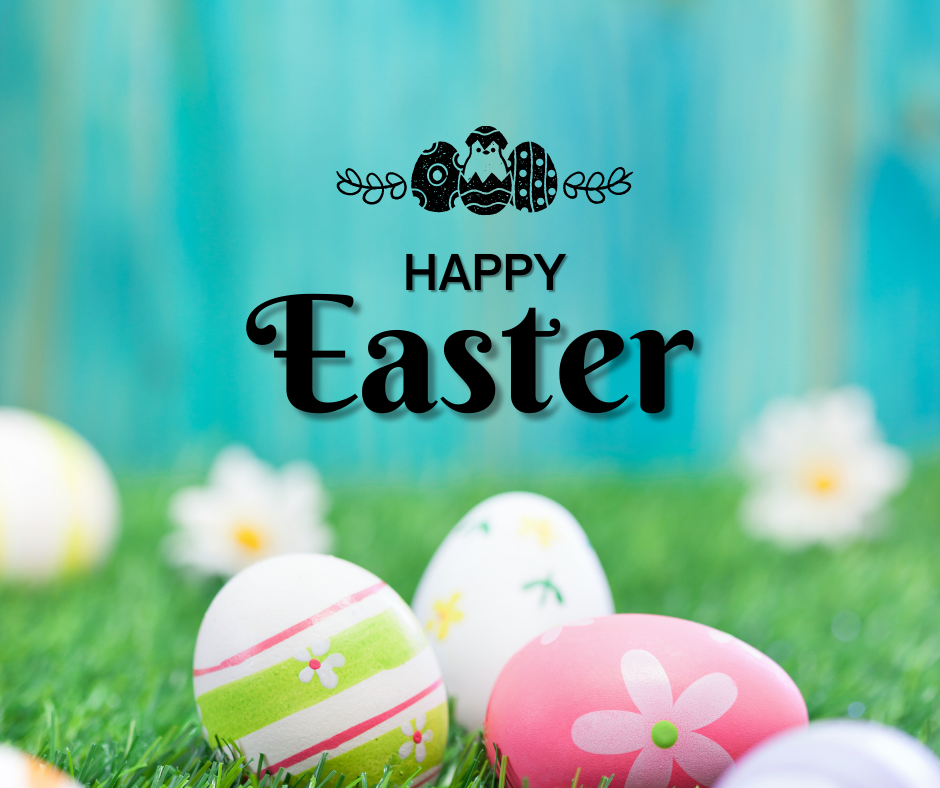 Greenwood Lady Bulldog Basketball State Champions were recognized by the Greenwood Board of Edication at tonight's school board meeting! Congratulations Coach Reeves, Coach Lensing, and student athletes! GSDexcellence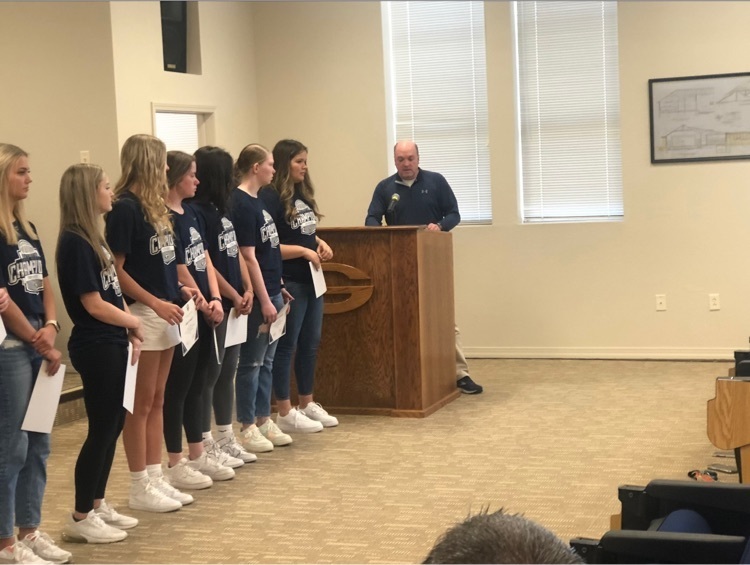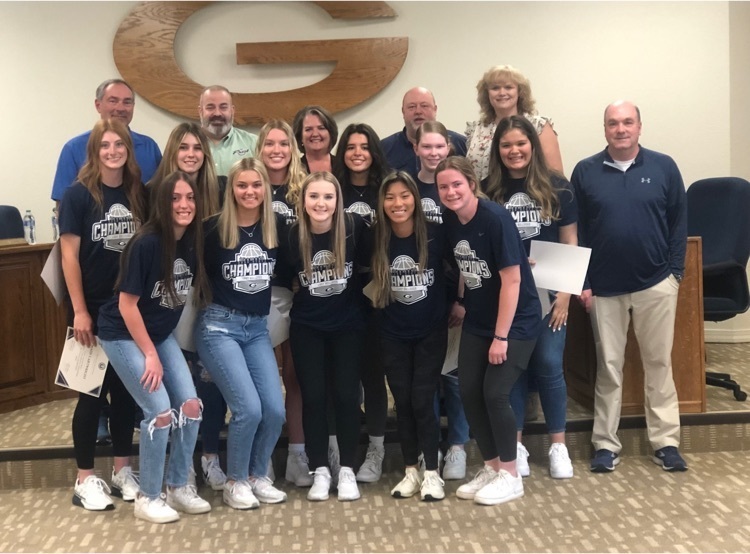 No School on Friday.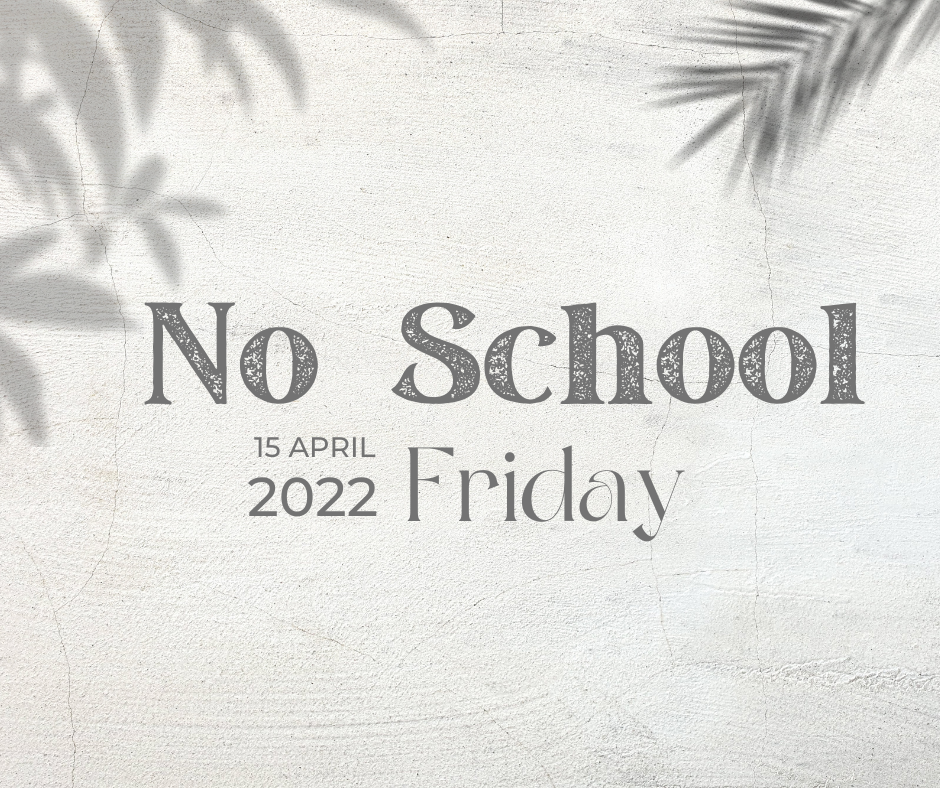 Congratulations to Dr. Dustin Smith! Dr. Smith has been selected as a recipient of the National Center for Spectator Sports Safety and Security 2022 Emerging Industry Leader Award by the Interscholastic Advisory Committee. This award recognizes an up-and-coming professional who has demonstrated outstanding leadership in addressing safety and security issues. In addition to the enhanced safety and security of their venue, the recipient's contributions have set an example for others to follow. #GSDexcellence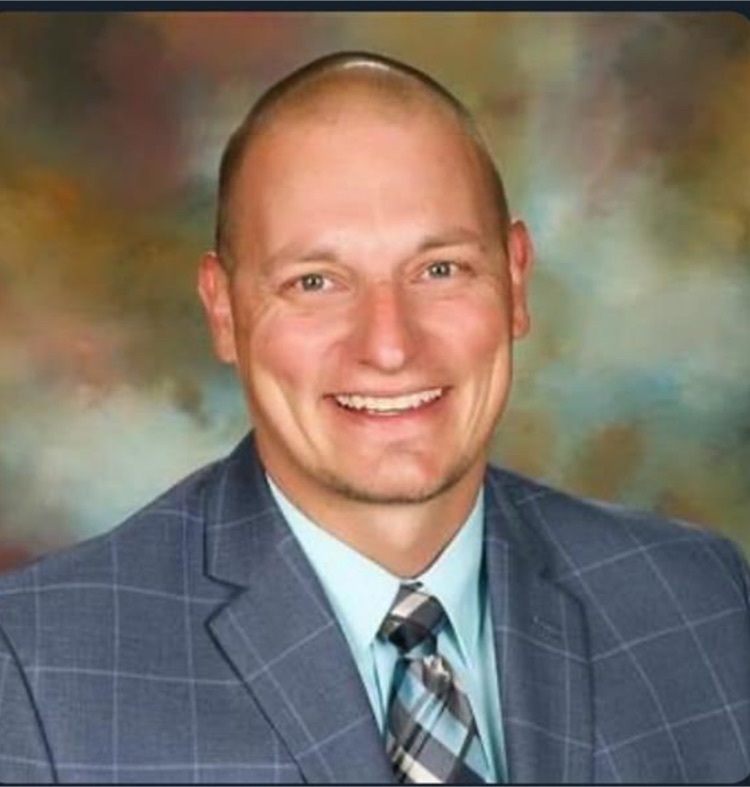 Special Needs Estate Planning Seminar to be held April 19th.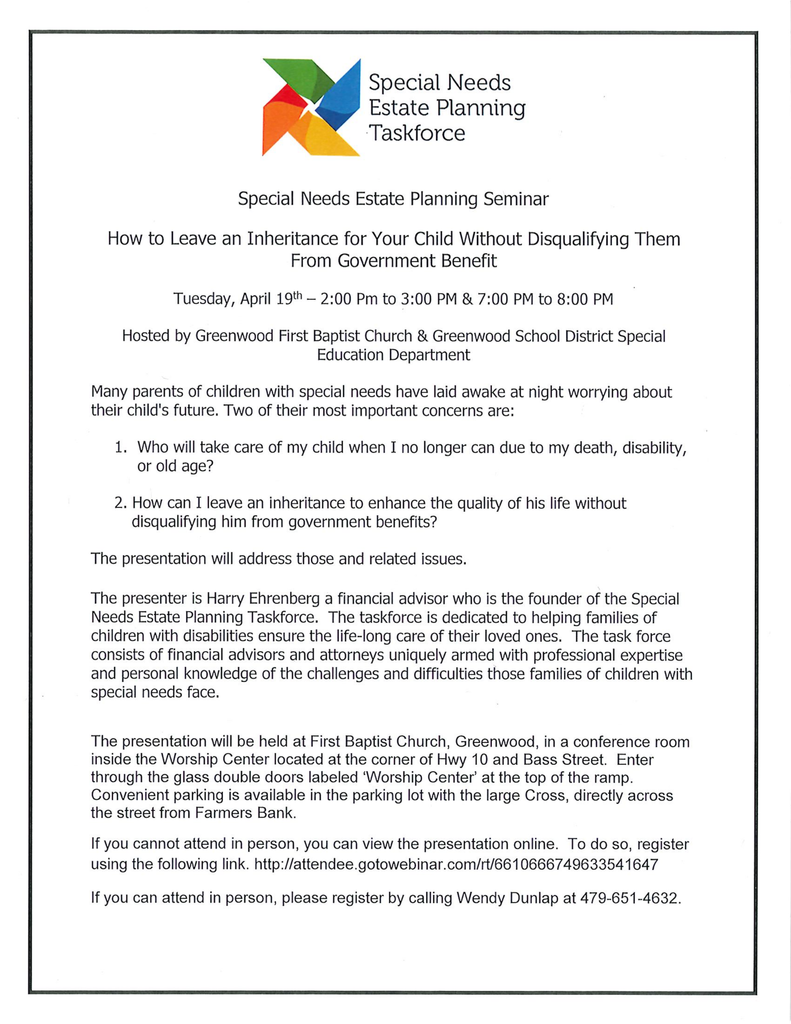 Did you know?? Greenwood Athletics voted #1 Best District for Athletics in Arkansas 2021-22 #35 Nationally out of 11,000. 42 Athletic State Championships & 86 Conference Championships since 2000. An addition of Wrestling, Bowling, Trap Shooting, and Esports to the athletic program in 2000. Along with the motto create champions in the classroom, community, and competition, Greenwood has a number of extra-curricular activities/clubs. Beta Club: current membership is 232 Junior and Senior members. Must have a 3.25 cumulative grade point to be eligible. The large number of members reflects the quality of a GHS education. This group organizes the Halloween Trail for the community- this past year over 3000 children and adults walked the trail. Members also appear before the A&P committee to request money for candy with the assurance the GHS students match the candy collected. This group plans the Veterans Day Assembly - this year over 100 vehicles were in the parade and 5-12 grade students lining the parade route. Beta Convention 2021- Greenwood received 26 awards, the most in school history. Out of those 10 were First Place Awards, and Reece McDaniel was elected Arkansas Beta President. The Beta Club has well over 100 group and individual plaques on display in the GHS trophy case. TSA Multiple State Championship Trophies (2018, 2019, 2021) Sweepstakes Trophy for Best Overall Middle School (2018, 2019, 2020) National Recognition for TSA Advisory of the Year for Arkansas Currently 3 students elected to State Office Robotics (GJHS & GHS) Award for Tournament of Champions at Fayetteville Competition (2018) Design Award at Bentonville Competition (2019) Award for Tournament of Champions at Little Rock (2020) Award for Tournament of Champions at Nashville (2022) Judges Award for Russellville Competition (2022) #GSDexcellence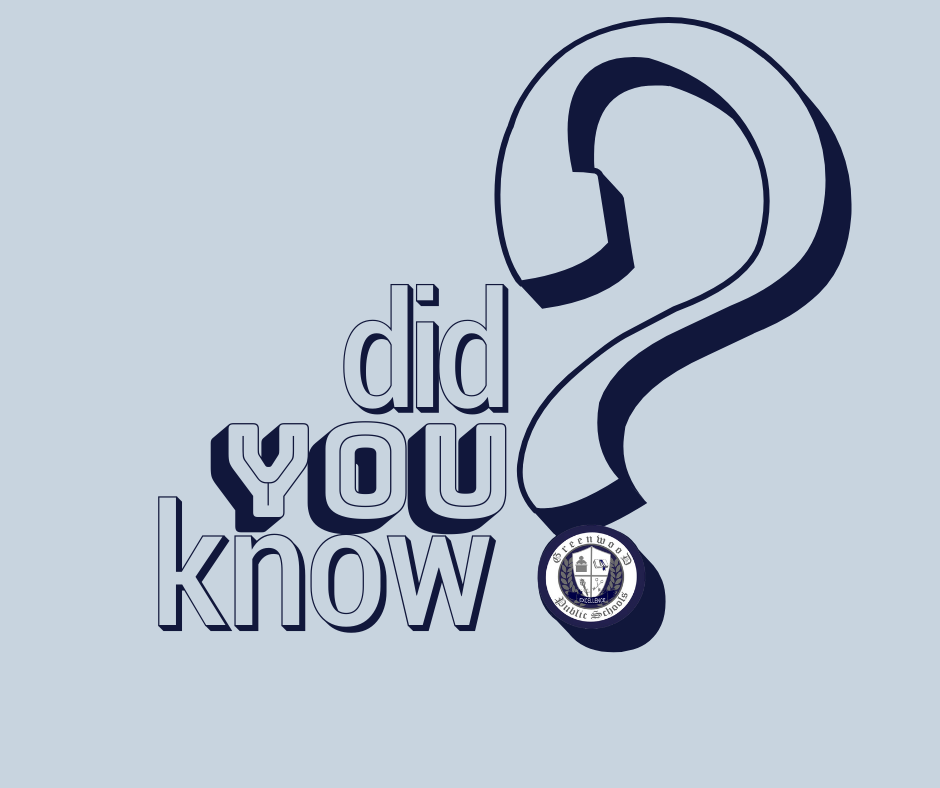 East Pointe's Furious Five Robotics Team represented East Pointe & Greenwood well at the US Open National Robotics competition in Council Bluffs, Iowa this week. The boys placed 8th in Skills Driving & Coding and they placed 11th in the Team Alliance matches. This team's performance was very impressive and exciting to witness at this national level competition! We are so proud of these boys and cannot wait to cheer them on in the Worlds competition in May! Congratulations and thank you to their coaches/teachers, Jill McMahan and Sherlett Myers. Furious Five: Hudson Ray, Christian Meyers, Carter Meyers, Jackson McMahan & Mason Thompson

Happy Paraprofessional Day! We honor our paraprofessionals, who may also be known as paras, instructional assistants, or teacher aides. They perform a variety of teaching-related jobs & assist teachers in classrooms. Paras may work with students on supplemental enrichment activities, either in small groups or one-on-one. They may also help students complete assignments or practice reading. Paraprofessionals work tirelessly each day to support students & teachers, so today we honor them for their service!