EDIT MAIN
Performing Arts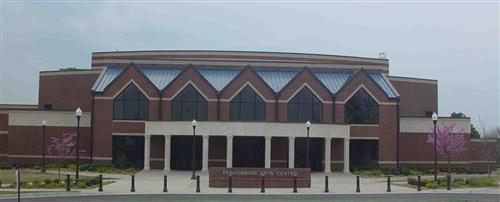 Greenwood Performing Arts Center
♦ 515 E. Gary Street ♦
Greenwood, AR 72936
♦ 479-996-4142 ♦
greenwoodPAC@greenwoodk12.com
Malynda.Sayers@greenwoodk12.com,
PAC Season Coordinator
♦ Bruce.Linam@greenwoodk12.com
Technical Director
Guest-Reddick Architects and Beshears Construction, Inc. under the approval of the Greenwood Public Schools Board of Education and Kay Johnson, Ed.D, Superintendent, completed the construction of the Greenwood Performing Arts Center (PAC) in 2004.
Since 2004, many students and alumni have performed on this 20' x 50' stage in front of audiences from surrounding areas. Professional shows, such as Ricky Skaggs, Gene Watson, Buckets and Boards, Mr. Blue Shoes, Matt Maher, Jimmy Miller, etc. have also entertained at this venue that is equipped with sound and lighting. This Performing Arts Center seats 1287 audience members and was built on the site of Arl McConnell's Greenwood home.
Mr. McConnell was an example and mentor for forty years as a student, athlete, coach, and principal. He graduated from Greenwood High School at mid-term in 1930 and enrolled at Hendrix College where he earned a degree in chemistry and mathematics in 1934. That same year his Greenwood alma mater hired him as a teacher and coach. He taught at Greenwood until the beginning of World War II when he left his career in education to work at Maumelle Ordnance Works. After the war, he earned his Master's Degree in Administration from the University of Arkansas and worked in area schools as a teacher, coach, and principal. He eventually returned to Greenwood in 1953 as high school principal and athletic director, a position he held until his retirement in 1974. Exhibiting fairness and respect for every individual student, Mr. McConnell encouraged generations of young people to maximize their potential in all aspects of life. He is remembered for his service and love for Greenwood Schools and this Performing Arts Center is dedicated to his memory.
Performing Arts Center Community Council (PACCC)
Suzy Wilson, Assistant Superintendent
Malynda Sayers, Season of Entertainment Coordinator
JoElla Skaggs, Greenwood Education Foundation
Tom McCone, Chair
Christy Clark, Co-Chair
Leigh Ellon Leonard, Secretary
Elliott Brown
Joicie Gilbreath
Katie Holland
Mark Huneycutt
Bruce Linam
Jim Reynolds
JoElla Skaggs
Fine Arts Council of Educators (F.A.C.E.)
Suzy Wilson, Assistant Superintendent
Malynda Sayers, Season of Entertainment Coordinator
JoElla Skaggs, Greenwood Education Foundation
Leigh Ellon Leonard
Bruce Linam
Karen Murphy
Tim Peerbolte
Leslie Peresta
Joel Sillavan
PAC Friends
4MAC
Arvest Bank
Bishop Family Dentistry
Calvert McBride
Cucina
Diversified Computer Resources
Farmers Bank
Greenwood A&P Commission
Greenwood Education Foundation
Greenwood School District
Johnson Dermatology
Leslie Peresta
Preschool Extraordinaire
Michael and Malynda Sayers
Renee Tedford with Sagely and Edwards Realtors
Tuned-N
WalMart
Western Arkansas Title Services